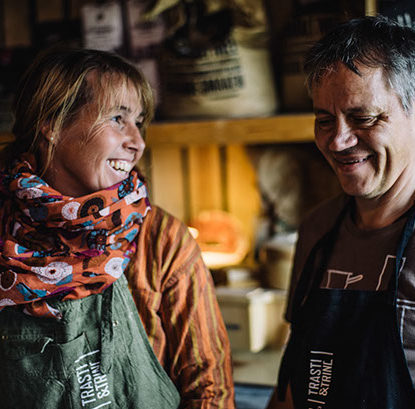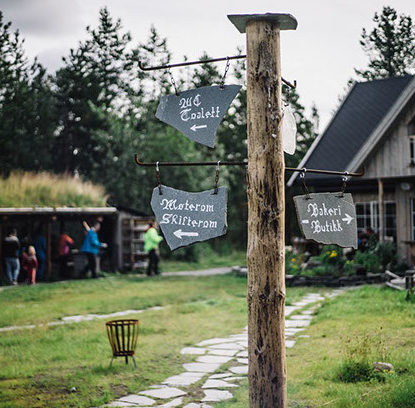 Ecotourism
We are certified by Ecotourism Norway. This means we provide nature and culture-based experiences with a local flavour which offer authentic encounters with the nature and people. We are very proud of this. We arrange activities in the local area and to the extent possible serve local and organic food.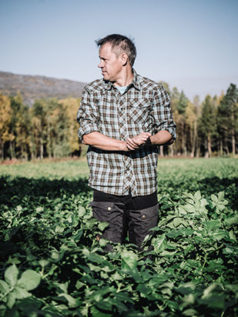 Johnny Trasti
Eier og kjøkkensjef
Trasti er hjernen, hånden og hjertet bak de fleste av smaksopplevelsene hos Trasti & Trine. Over 30 år på kjøkkenet har gitt mannen erfaring, kunnskap og instinkt i bøtter og spann. Likevel er han fortsatt på evig jakt etter det perfekte måltidet med de beste råvarene og mest unike smakene.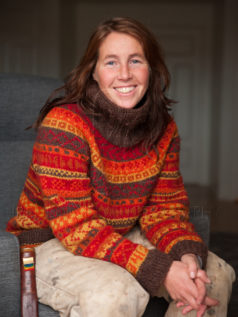 Trine Lyrek
Eier og guide
I løpet av de ti siste årene har Trine hatt med seg mer enn 5000 gjester ut på tur. Få kjenner hundene, sporene og historiene bedre enn henne. Samtidig er hun fortsatt full av ideer til nye turer og spennende opplevelser for både to- og firbeinte. Trine har oversikten over de fleste og en finger med i det meste som skjer på tunet.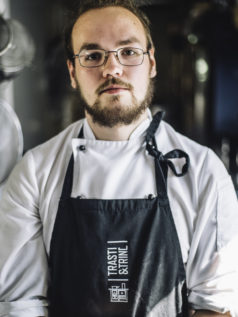 Vemund Mortensen
Kokk
Vemund er fra Alta. Før Vemund kom til oss, gikk han kokkeskole her og fiskefag i Vardø. Etter det har han jobbet som lærling på kjøkkenet vårt. Høsten 2018 til Vemund fagbrev. Han liker natur og friluftsliv, og kanskje finner du han bak hundesleden til vinteren også.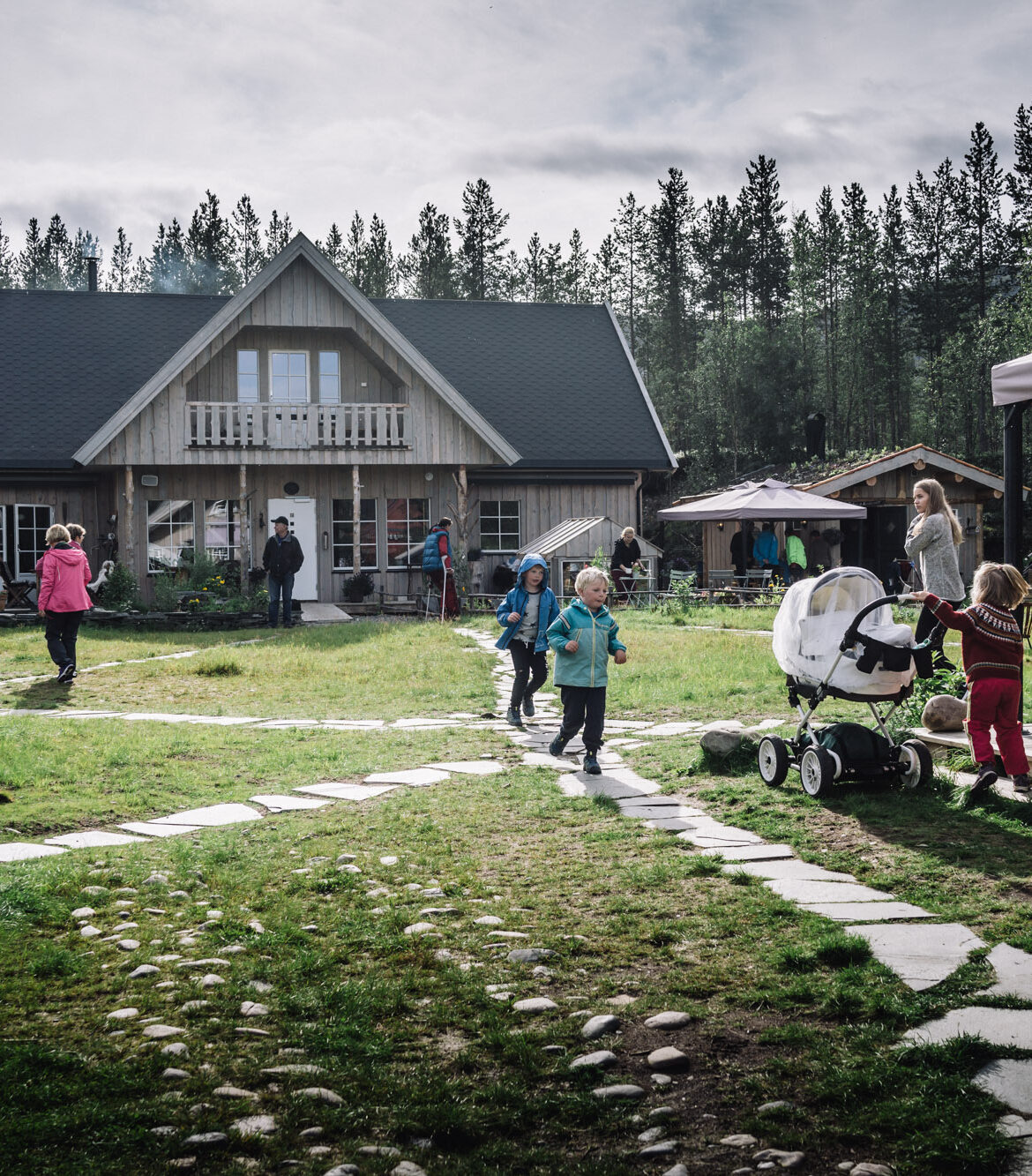 Our yard
In the early days, there were two houses and two dog yards situated close together in a pine forest. It was peaceful and idyllic. But we had an idea and a dream. We wanted to create something more. We visualised a vibrant yard full of activity year-round; a place for big and small adventures, joy of life and mastering. That place has become a reality! The team at Trasti & Trine live here together with 60 Alaskan huskies, some hens, a cat and not least many nice guests. The dog yard where everything started remains the starting point for action-packed activities all year round. Our guests can stay in Hytta (our cabin) or Gjestehuset (our lodge), while our restaurant serves local and organic food of outstanding quality.
But we do more than serve great food. We want to share our enthusiasm for good produce and the North Norwegian kitchen with our guests. Consequently, we have an indoor course kitchen, nature's kitchen outside and our own bakery. We also have autumn and spring markets and a café open during the summer.
But when evening falls and the daytime adventure nears its end, we are still surrounded by silence and pine forest. This is a great place to be for animals and people, young and old. Welcome to our home!
The bakery
Early risers may notice the smoke rising from one of the smallest buildings in the yard. This means that Trasti is up early and has fired up the stone oven in the bakery. How about a whole grain sourdough bread, a crispy croissant or perhaps a loaf of bread with birch sap or juniper berries? Everything is organic and straight from the oven. The bakery shop is open a couple of times a week. Follow us on Facebook (Trasti & Trine AS) for news and opening times.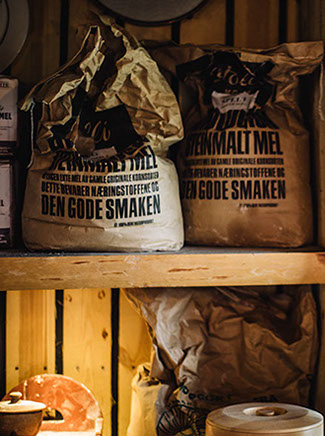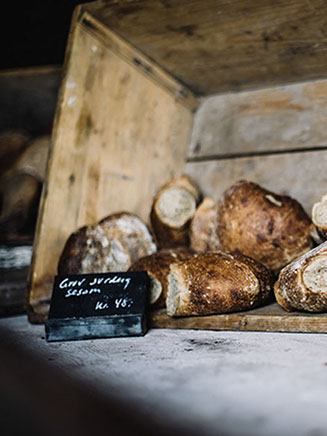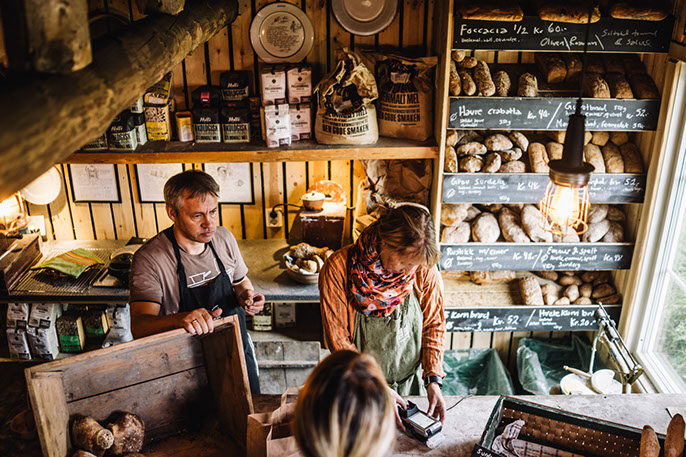 Outdoor café and market
Head to Trasti & Trine for your weekend café visit!? Our outdoor café is open every weekend throughout the summer. You can enjoy lunch and delicious cakes from our bakery. Naturally, everything is completely fresh and most is organic and locally produced. You can enjoy your cup of coffee by the fireplace or perhaps in the Gamma if the Finnmark summer is too cool for your liking. Visit our kennel if you wish, or take a closer look at our garden. Welcome!
In 2017 our outdoor café is open every second Saturday and Sunday (even numbered weeks) from 12.00 to 17.00 (12 noon to 5pm).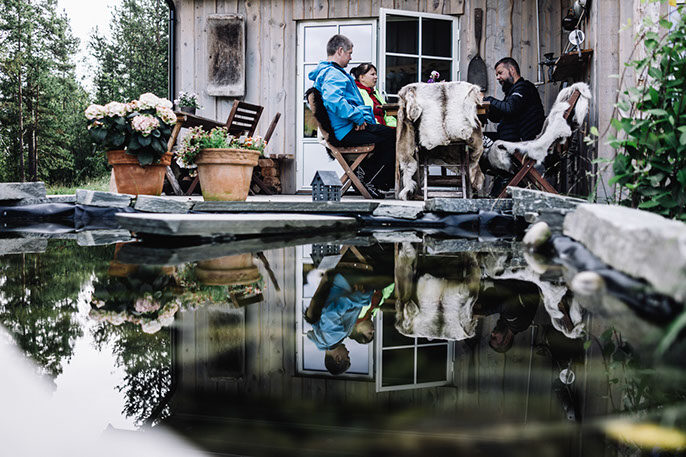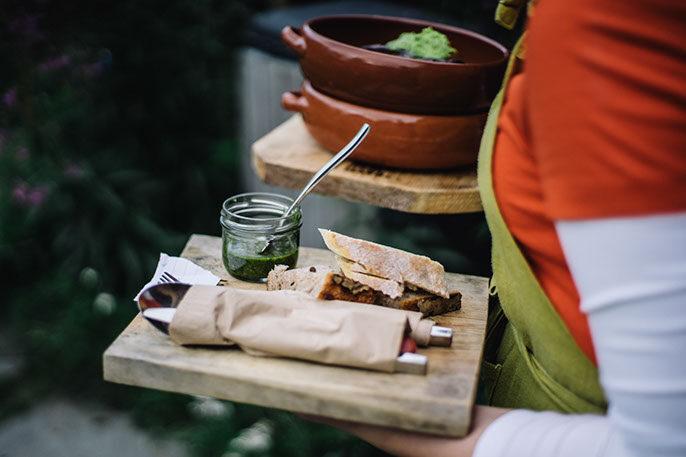 The dogs
Around 60 Alaskan huskies live here. They are divided among two dog yards, where every dog has its own kennel with its name on it. Living and working so closely with so many animals is a privilege and a big responsibility. Our dog enclosures are clean and tidy, the dogs thrive and everyone who works with the dogs knows what they are doing.
There are no compromises when working with animals. In addition to tourism, we are also an active racing kennel. As well as local races, we always have one or more dog teams in the annual Finnmarksløpet sled dog race. In 2019 eight of our dogs finished in third place at the national championships with Hanna as musher. In 2022 Hanna and 16 dogs travelled across to Alaska and ran the worlds longest sleddog race – the Iditarod – finishing 19th and became "Rookie of the year". In other words, our dogs are top-class athletes, which demands the right amount of training, rest and food – and last but not least – love & petting. If there is one thing the dogs look forward to when we have guests, it's all the petting and attention they receive.
Accompanied by one of us who work here, you are always welcome to enter the dog enclosure and greet the dogs of your choice. In summer, we also have puppies who rarely say no to some extra attention.